Nord Gear Pte Ltd

Your NORD Drivesystems partner for Singapore and ASEAN countries
NORD Gear Pte Ltd is a 100% owned subsidiary of Getriebebau NORD GmbH & Co. KG, Bargteheide, Germany. Getriebebau NORD is the second largest manufacturer of helical geared motors internationally. NORD are the pioneers of the modern Helical geared motor design and specification, which in 1981 was released as the ground breaking "Unicase "series. This Geared motor specification revolutionized helical geared motor design, and remains little unchanged after 30 years. The Unicase design has also been widely imitated by other geared motor manufacturers.
Getriebebau NORD has 100% owned assembly and sales facilities in 35 countries outside Germany. There are another 60 countries where NORD products are assembled or distributed by service agents and distributor networks. NORD also design and manufacture cabinet mount and de-centralised frequency inverters, and all NORD electric motors. All of NORD's gearbox and frequency inverter products are exclusively manufactured in Germany only.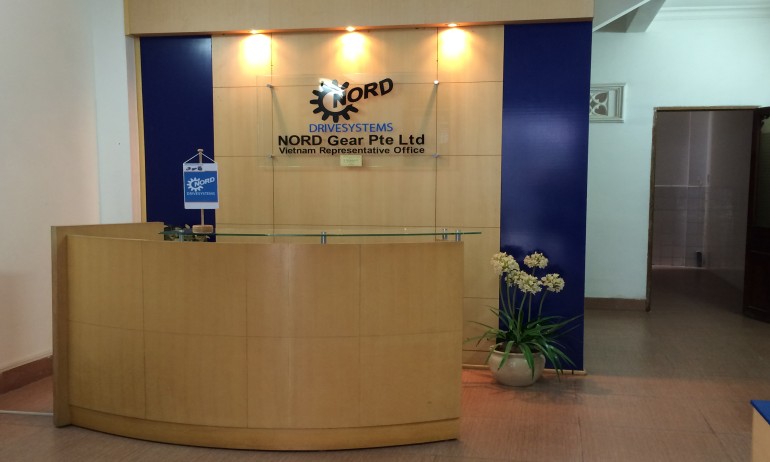 Representative office in Vietnam
In June 2006 NORD Gear Pte Ltd officially opened its Representative office in Ho Chi Minh City, Vietnam. The office is situated in the Binh Thanh District, including administration and sales staff, to handle market throughout Vietnam. The office's functions include, before and after sales support for distributor and customers, sales operation and marketing activities.

Our Sales Team
NORD Gear Pte Ltd has Regional Sales Managers and a group of experienced sales team and engineers who look after the business in the region. Dimension drawings including 2D and 3D are available from our website, or by request.
The website for NORD Gear Pte Ltd is www.nord.com
You can also contact NORD Gear Pte Ltd on +65 62659118 or email sales.sg@nord.com