Explosion protected drive solutions by NORD

Drive systems for explosion hazard areas of Zones 1, 2, 21, or 22
High Flexibility
Motors optionally designed for inverter operation
Direct mounting of the motor to the gear unit is possible in many cases
Depending on the zone, optional external fan, backstop, brake
If desired, a combined dust/gas explosion protection is available (not suited if explosive gases and particles are present simultaneously)
Systems for ambient temperatures up to +60 °C
Worldwide shipping with documentation in more than 20 languages
Dust

There are several zones of explosion protection in dust atmospheres:
Zone 22: Rare occurrence of explosive atmospheres
Zone 21: Occasional occurrence of explosive atmospheres
Zone 20: Constant or frequent occurrence of explosive atmospheres

ATEX information poster dust | PDF (288 KB)

Dust explosion protected motors
According to Category 2D or 3D
For Zone 21 or 22
According to EN 60079-31
Ignition protection class tD (protection with housing)
-> to the product

Dust explosion protected gear units
According to Category 2D or 3D
For Zone 21 or 22
According to EN 13463
Ignition protection class c (constructional safety)
-> to Overview of Gear Units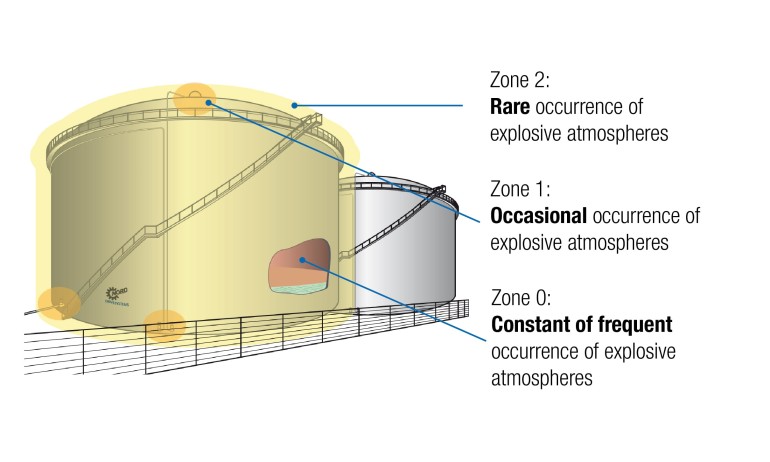 Gas

There are several zones of explosion protection in gas atmospheres:
Zone 2: Rare occurrence of explosive atmospheres
Zone 1: Occasional occurrence of explosive atmospheres
Zone 0: Constant or frequent occurrence of explosive atmospheres

ATEX information poster gas | PDF (354 KB)

Gas explosion protected motors
According to Category 2G or 3G
For Zone 1 or 2
Ignition protection d/e (pressure resistant encapsulation)
Ignition protection e (increased safety)
Ignition protection n (non-sparking)
-> to the product

Gas explosion protected gear units
According to Category 2G or 3G
For Zone 1 or 2
According to EN 80079
Ignition protection class c (constructional safety)

ATEX drive solutions compliant with standards since 2003
NORD has long since been a certified manufacturer and can look back on several decades of expertise in explosion protected drive technology. Explosion protected drives by NORD are used in almost all industry sectors and beyond.
Systems compliant with EU Directive 2014/34/EU in force since April 20, 2016
Systems compliant with IEC Ex
Certification by Physikalisch-Technische Bundesanstalt (PTB)
Certification by DEKRA EXAM GmbH
Revised documentation compliant with EU Directive 2014/34/EU
The existing documentation for explosion protected drive solutions was revised before April 20, 2016.
Gear unit

Manuals

B2000- Explosion protected gear units and geared motors
B2050 - Explosion protected industrial gear units
Certificates
C411000– Explosion protected gear units in occasionally occurring explosive atmospheres - 2D + 2G
C412000– Explosion protected gear units in rarely occurring explosive atmospheres - 3D + 3G
Motors

Manuals

B1091 - ATEX 3-phase asynchronous motors + explosion protected motors
Certificates
Electronic Drive Technology

Manuals

Certificates
C432410 – Explosion protected frequency inverter SK 180E
C432710 – Explosion protected frequency inverter SK 200E
C432810 – Explosion protected motor starter SK 135E