Getriebebau NORD, Nowa Sól

Production plants

The NORD production plant in Nowa Sól is one of the most modern sites in the NORD DRIVESYSTEMS Group. The plant in Nowa Sól produces shafts and gearwheels while also providing assembly and other services for complete drive solutions.
The foundation stone for the plant was laid in 2005. Production started on 01 October 2006. The plant was officially opened on 28 September 2007. In the beginning, the plant had 20 employees. Today, the plant provides work for 320 employees.
PRODUCTION DEPARTMENTS

The Nowa Sól production site is divided into the following departments: mechanical machining, assembly, paint shop, warehouse and logistics.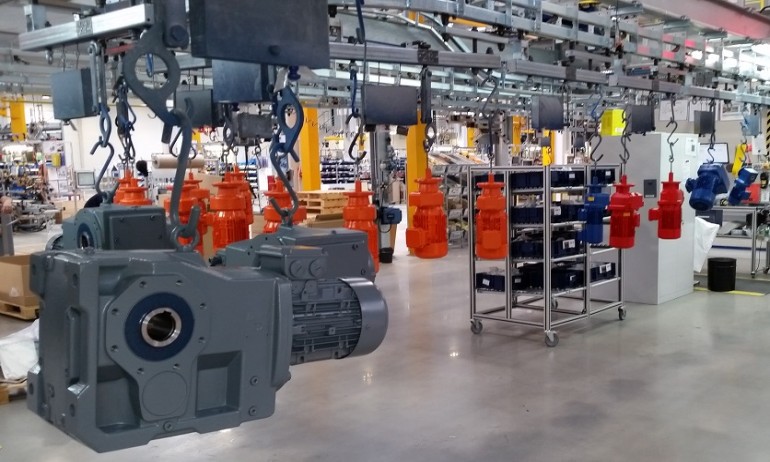 The following gear unit types are assembled in the corresponding department in Nowa Sól: Worm gear units, helical gear units, bevel gear units (cast iron and aluminium) as well as Standard and Universal types. The department comprises 21 assembly stations and a semi-automated assembly line that is used for pre-assembly of gear unit components in a single work step, enabling partial assembly of standard helical gear units.
There are 3 paint spray booths in the plant. In addition, the paint shop is equipped with a special paint mixer that can be used to create the respective RAL colour in the shortest possible time so that the gear units can be painted in the colour requested by the customer.
Mechanical machining

The mechanical machining department is equipped with specialised CNC lathes and milling machines. In this department, wheels, gear unit shafts and cylindrical gear wheels are manufactured that will later be installed in the gear units.
Warehouse and logistics

Three automated Kardex racks are installed in the warehouse area, enabling safe and ergonomic searching and removal of the required materials. In addition, high racks with a height of up to 10 m have been installed to optimise shelf areas. In logistics, there is an automated feeder for finished products, facilitating a variety of logistics and storage processes. The Nowa Sól warehouse has 12,500 storage spaces.
Integrated production system and ISO9001:2015

In January 2009, we implemented the first integrated production methods. After 10 years, we can say that this ongoing improvement process has positively influenced our plant to a great extent. The Nowa Sól site is considered exemplary
while also being certified according to ISO 9001:2015.